http://en.people.cn/n3/2022/0812/c90000-10134473.html
China launched a terrestrial ecosystem carbon monitoring satellite "Goumang" for carbon sink measurement. The satellite is able to detect and measure such factors as vegetation biomass, atmospheric aerosol and chlorophyll fluorescence through comprehensive remote sensing means, including laser, multi-angle, multi-spectral, hyperspectral, and polarization. Equipped with laser radar, multi-angle and multi-spectral camera, hyperspectral detector and polarization imager, Goumang can monitor key data on carbon sink capacity of forests, including plant height, vegetation coverage, chlorophyll fluorescence, and PM2.5 concentrations.
Photo shows a simulated image of China's terrestrial ecosystem carbon monitoring satellite. (Photo/ China National Space Administration)
Also launched on the same rocket were two small satellites, namely the Jiaotong 4 and the Minhang Youth. The Jiaotong 4 will be used to collect information about ship movements and flight statuses around the globe, as well as information about the global Internet of Things (IoT). The Minhang Youth, which is designated as a platform for young students to partake in space science research and engineering practice activities, including satellite design, satellite R&D, satellite payloads, and satellite launch, will carry out applied scientific research on space-Earth integrated carbon source monitoring.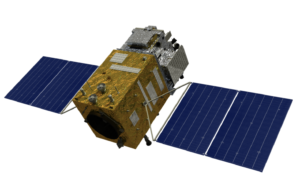 China launches ecosystem carbon monitoring satellite "Goumang"