http://j.people.com.cn/n3/2023/1031/c95952-20091311.html
http://en.people.cn/n3/2023/1107/c90000-20093902.html
https://english.news.cn/20231108/1ce0a7b6dafb463a94b0a32f02dafd7d/c.html
https://www.cas.cn/cm/202311/t20231108_4984760.shtml
On November 6, 2023, the first Belt & Road Science and Technology Conference was held in Chongqing on the motto of "Together for Innovation, Development for All".
According to a spokesman of the Ministry of Science and Technology MOST, China has already  supported more than 10,000 young scientists from the contracted countries for short-term activities and exchanges in China, and 16,000 scientists and managers within these countries. The program is usually based on cooperative structures including Chinese and local scientists. This may also include partners from Chinese industries.
In terms of improving scientific research capabilities, China has constructed abroad more than 50 One Belt One Road joint laboratories in fields such as agriculture, medicine, information, new energy, and basic research, and established 10 overseas science education cooperation centers,
For "improving civilian life", China has built abroad several cooperation centers, for public health science and technology, a cultivation of edible mushrooms, sea water aquaculture and mountain disaster center.
For "industrial development abroad", China has built nine global technology commercialization centers in ASEAN, Arab countries, Africa, and other regions.
For "transmission of civilization", China has has established scientific research cooperation on archaeological research and cultural relic protection, with a focus to explore Silk Road history and its civilizations.
The thrust of these activities is towards the Eurasian continent, including SE Asia, the Arabian world, and Africa, an area which is already covered by Chinese satellites and provides weather data to major cities, https://data.cma.cn/en.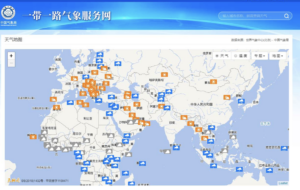 European and African contractors for joint laboratories include for instance the University of Zagreb, Croatia, and the Chengdu Institute of Biology of the Chinese Academy of Sciences operate a China-Croatia Biodiversity and Ecosystem Services (CBSES) joint laboratory serving  the Plitvice Lakes Natural Park, a World Natural Heritage Site. An African contractor is Egerton University which hosts the Kenya-China Joint Laboratory for Crop Molecular Biology, jointly operated with Nanjing Agricultural University.
China celebrates 5 years of Belt and Road cooperation on science and technology, joint projects with over 80 countries