http://j.people.com.cn/n3/2023/0802/c95952-20053131.html
Offshore of Fishermen's Wharf in Laishan District, Yantai City, Shandong Province, the ocean ranch complex platform "Genghai No. 1" floats like a shiny necklace on the sea. On one side is a smart fishing platform in the shape of a flower petal, and on the other side is a popular tourist attraction in the shape of a starfish. The inner side of the "Cultivated Sea No. 1" bridge is surrounded by aquaculture cages. This is the aquaculture farm for cultivating sea bream and other fish below. Its first phase platform is a rotating combination of three circular sub-cages with a diameter of 40 meters, which are shaped like three petals. The total site area is over 5,000 square meters, and the cultivation volume of each cage is 10,000 cubic meters. It is expected that 200,000 high quality saltwater fish can be farmed each year, with an annual production capacity of approximately 150,000 kg.
In order to achieve a green low-carbon environment, the aquaculture cages are equipped with solar and wind power generation systems, which can almost cover the daily electricity consumption needs when there is sufficient sunlight and stable wind power. Tourists can experience ocean fishing, jogging, and watching the sunrise and sunset in the corridor. The "starfish"-shaped main platform includes a leisure plaza, a water paradise, and other facilities, while the seven-story indoor space includes a general support area, a marine fishery science and education exhibition hall, a food and beverage celebration area, and an accommodation area.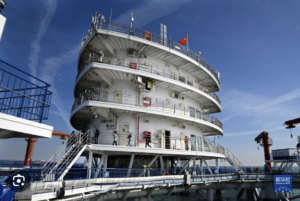 As for waste disposal, there is a complete antifouling treatment system, which will professionally treat the sewage and sewage on the platform. After treatment, all sewage and waste will be transported by sewage treatment vessels to land wharves designated by the Eco-Environmental Competent Authority and discharged into the city's sewage pipelines to achieve "zero emissions".
Yantai has 46 marine ranches above the provincial level, covering a total area of 93,000 hectares.
A marine farm at the Shandong coast combines aquaculture and tourism