http://en.people.cn/n3/2022/0721/c90000-10125711.html
14 autonomous driving taxis (Baidu Apollo robotaxis) were put into commercial operation at the Western China Autonomous Driving Open Test Base in Chongqing – an area covering 85 square kilometers with 220 km of roads.
They are capable of Level-4 autonomous driving ("in most conditions without a human driver"). There is a human operator in the driver's seat to ensure safety, but a fully driverless robotaxi service is expected to be realized this year.
The service includes more than 70 pick-up and drop-off points that cover scenic spots, schools, shopping malls, residential areas and industrial parks. The vehicles' designated speed is no more than 60 km/h. Passengers pay using mobile phone apps such as Apollo Go, Baidu Maps and Yongchuan Public Service from 7 am to 11 pm every day. The base rate is 16 CN¥ ($2.40) and the fare is charged at 2.8 CN¥ per km.
In November 2021, three buses equipped with level-4 autopilot technologies were put in operation in Chongqing Cloud Valley Yongchuan Big Data Industrial Park. The robobus, developed by Baidu and bus manufacturer King Long, is 5.9 meters long and can carry 12 passengers at up to 40 km/h. It is able to identify pedestrians, vehicles and other obstacles within 240 meters. The 10-km bus route has eight bus stops. Passengers can use an e-ticket system and use facial recognition or smart/transit cards, and the fare is 2 CN¥, the same as regular buses.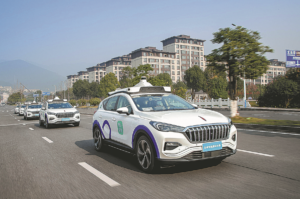 14 level-4 autonomous driving taxis put in operation on 85 km2 test base in Western China