Until 2014, the supply of fresh vegetables was a major problem plaguing China's Antarctic scientific expeditions. As Antarctica entered its long winter, scientific observers had to overwinter with only a few vegetables, such as Chinese cabbage. Then Dr. Wang Cheng, a doctor who participated in the 31st National Scientific Observation Mission to Zhongshan Station, Antarctica, undertook the great project of growing vegetables in Antarctica. He installed a soilless cultivation and automatic irrigation system controlled by computer.
The vegetable greenhouse laboratory at that time was a 16-square-meter room. Soilless cultivation technology was used throughout the greenhouse. An automatic control system for vegetable cultivation automatically controlled irrigation pumps, temperature and humidity, cultivation lighting, and nutrient solution. Under the control of a PC, LED plant growth lighting was automatically adjusted based on vegetable growth conditions. An automatic irrigation system injected nutrient solution into the tanks every hour. When the humidity in a room dropped below 70%, the humidification system sprayed mist into the room. To promote vegetable growth, the vegetable greenhouse laboratory played light music continuously for 24 hours a day.
At present, Tang Mingjun is an accompanying doctor of the 33rd National Antarctic Science Expedition of China. He
conducts live-streaming on Saturdays and Sundays and calls himself "a doctor in Antarctica who can grow vegetables".
Hu discovered that the strong ultraviolet rays of the sun hinder vegetable growth, and that artificial light sources are better suited for plant growth. More importantly, he found that the excessive ultraviolet radiation of sunlight due to the Antarctic ozone hole is detrimental to plant growth. By regulating ventilation, humidity, temperature, and artificial light sources, Hu increased the production of various vegetables; over the course of a year, he harvested 323 kilograms of leafy vegetables and 117 kilograms of fruit and vegetable crops. The team met the crew's demand for nutritional intake from fresh fruits and vegetables, and ensured that they had almost all of the B vitamins and vitamin C that a person needs every day.
During Hu's time in charge of Antarctic medical support, the whole crew developed no symptoms of vitamin deficiency, such as mouth ulcers, leg cramps, or wounds that would not stop bleeding.
The picture shows Dr. Zhao Junyong, a wintering doctor at the Great Wall base, who stated that the soilless cultivation technology can harvest more than one kilogram of fresh fruits and vegetables every day.
This was envied by many overseas scientific observers. Before the outbreak of COVID infections, they often visited the base for a feast.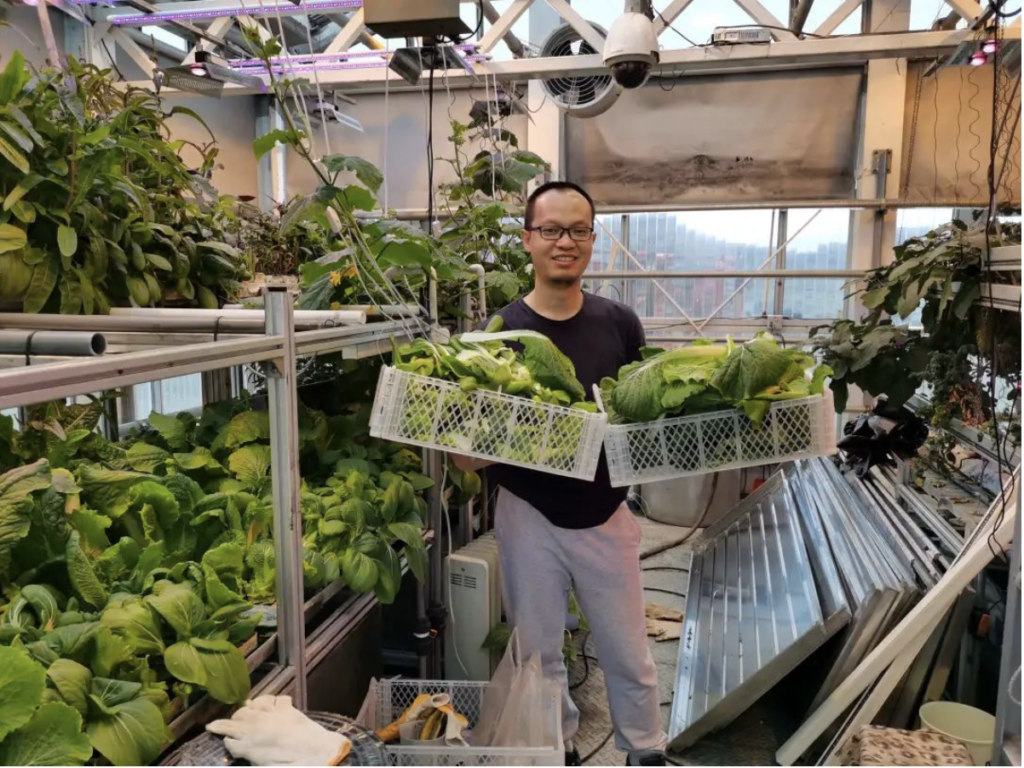 Japanese edition of "People's Net" March 16, 2022
http://j.people.com.cn/n3/2022/0316/c95952-9971832.html
2022/03 Chinese antarctic teams are envied by their neighbours for fresh vegetables and fruits grown in antarctic plant factories